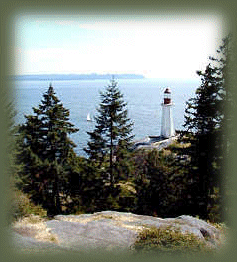 Vancouver, BC, Canada is a world class city located in one of the most naturally beautiful locations you will ever sea. The coastal mountains rise straight out of the Burrard Inlet. In fact, you can ski at Grouse Mountain in the winter months and the parking lot to the tram is just north of downtown!
Founded in 1792 by Captain Vancouver, it was only a small coastal village until the early 1900's when Vancouver became the industrial center of Western Canada. Today more than two million people live in Vancouver making it the third largest city in Canada. It's downtown area is a combination of historic buildings, a large Chinatown section, "Gastown" with lots of shops and restaurants, and modern office buildings and hotels.
Robson Street in the center of downtown is packed with international boutique shops and fabulous restaurants. Granville Island, the site of the 1986 Expo World's Fair, is now covered with unique shops and the downtown market. Stanley Park, the largest in-city park in Canada, is located on the peninsula portion of the northern part of the city. It is a spectacular park with plenty of trails along the beaches or through the forests. It ends at the tip of the peninsula where the spectacular Lion's Gate Bridge crosses the inlet.
A little over an hour north of downtown is Whistler, one of the premiere ski resorts in the World and home of the 2010 Winter Olympics. If all of this is not enough, the cruise ship terminal is located in the middle of town, just steps from many of the waterfront hotels. From May to September the harbor seems a constant flow of cruise ships coming and going to Alaska.
Vancouver is not to be missed, whether for a few days or a few weeks.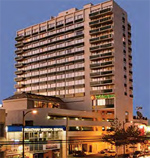 HOLIDAY INN
711 W. Broadway
The location is convenient to Vancouver International Airport (YVR) and the Pacific Central Train Station, as well as the Canada Line SkyTrain Station. From Grouse Mountain to Science World, you'll find a variety of attractions near our hotel. In downtown Vancouver, you can cheer at Rogers Arena or BC Place Stadium, walk through the VanDusen Gardens and explore the Vancouver Aquarium. Lodging here also puts you near world-famous attractions like Granville Island and Canada's largest Chinatown.