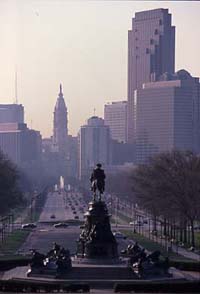 Originally founded by William Penn in 1682 in a location where the Delaware and Schuylkill Rivers merged. Philadelphia was the second largest English speaking city in the World during the 18th century. Of course, it was the home of many of the famous events of the American Revolution, the First Congressional Congress and Benjamin Franklin.
You will also see Gettysburg and other reminders of the Civil War around Philadelphia. The older parts of downtown still have buildings from these times. Known as the "City of Brotherly Love", fabulous Philly is now home to over three million citizens. In addition to its rich history, it is has the latest in hotels, restaurants and other conveniences.
Do not miss Independence Park downtown - regarded as the most historic square mile in America, where the United States was conceived, declared and ratified. In 1787 the Constitution of the United States was written and signed here, and it was the first capital of the new nation from 1791 to 1800.
The rivers lead to the Chesapeake Bay and then into the Atlantic Ocean. The natural beauty and wildlife of these areas are World famous. So, if it is American History, cosmopolitan conveniences or natural beauty you want to experience, Philadelphia offers it all.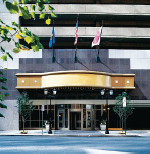 SONESTA HOTEL DOWNTOWN
1800 Market Street
Located on Market Street west of City Hall, just blocks from the Pennsylvania Convention Center, Amtrak station on the 30th Street and Philadelphia's historic sites and attractions. Walk to Center City businesses, fine dining, shopping, museums, Rittenhouse Square, Avenue of the Arts-Theatre District & Antique Row. The Philadelphia Museum of Art, Liberty Bell, National Constitution Center, Independence Hall & Philadelphia Zoo are other nearby attractions. Relax in the seasonal outdoor rooftop pool with views of the city. Enjoy the Elephant and Castle Pub, an English Pub-themed restaurant, or the Cafe Express, for a quick cup of coffee or sandwich on the go.