Current Broadway Shows
Top Broadway Shows
SHOWS MUST BE SELECTED AT TIME OF BOOKING

We offer every Broadway Show! Packages include best available seating at time of booking, but are guaranteed to be Orchestra or Front Mezzanine! Evening or matinee performances. Nominal surcharges may apply for some shows.

Of course, shows may close without notice and new ones open throughout the year; our staff will advise your travel agent of new show opening dates that you may be requesting. For groups, we can usually get all seats together.

BROADWAY SHOW POLICIES - Deposits on Broadway Show packages are due within 7 days of booking and will generally be based on the number of show tickets x $200 (may vary).

SHOW CANCELLATIONS ARE
ABSOLUTELY NON-REFUNDABLE

These are the policies of the theaters, not City Escapes.

Visit www.cityescapes.com for current show list. Click here for our Broadway Shows PDF.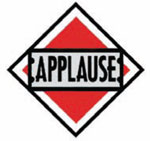 Applause-Tickets is our source for all our theater tickets. We provide the best available tickets at the time of booking!
ALADDIN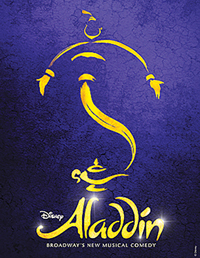 NEW AMSTERDAM THEATRE 214 West 42nd Street
Running time: 2h 30min
Experience a whole new world in a whole new way! With just one rub of a magic lamp, Aladdin's journey sweeps you into an exotic world full of daring adventure, classic comedy and timeless romance. It's an unforgettable experience that includes all the cherished songs from the Academy Award ® winning score and more written especially for Broadway.
BEAUTIFUL: THE CAROLE KING MUSICAL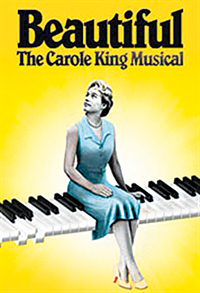 STEPHEN SONDHEIM THEATRE 124 West 43rd Street
Running time: 2h 20min
Beautiful tells the true story of Carole King's remarkable rise to stardom, from being part of a hit songwriting team with her husband Gerry Goffin, to her relationship with fellow writers and friends Cynthia Weil and Barry Mann, to becoming one of the most successful solo acts in popular music history. Along the way, she made more than beautiful music - she wrote the soundtrack to a generation.
CATS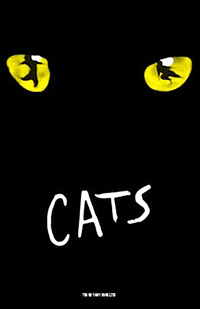 NEIL SIMON THEATRE 250 West 52nd Street
Running time: TBD
Based on T.S. Eliot's book of poems about fantastically-names felines, "Old Possum's Book of Practical Cats," Cats immerses the audience in the world of "Jellicle Cats," a special breed that sing about their unique qualities before gathering for a Jellicle Ball at which one among them is chosen to ascend to the supernatural "Heaviside Layer."
CHICAGO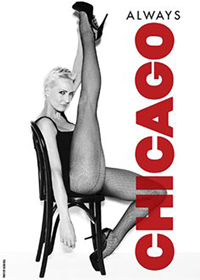 AMBASSADOR THEATRE 219 West 49th Street
Running time: 2h 40min
This sensational tale of sin, has everything that makes Broadway great: knockout dancing, a ripped-from-the-headlines story about fame and scandal. Chicago has been honored with six Tony Awards®, two Olivier Awards®, a Grammy® and thousands of standing ovations. And now, CHICAGO is the longest-running American musical in Broadway history! Now's the time to catch Broadway's red-hot hit!
HAMILTON
RICHARD RODGERS THEATRE 226 West 46th Street
Running time: 2h 40min
From bastard orphan to Washington's right hand man, rebel to war hero, loving husband caught in the country's first sex scandal to Treasury head who made an untrusting world believe in the American economy, an exploration of a political mastermind and scrappy young immigrant who forever changed America: Alexander Hamilton.
KINKY BOOTS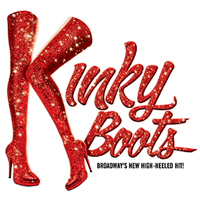 AL HIRSCHFELD THEATRE 302 West 45th Street
Running time: 2h 20min
Based on a true story of a conservative but failing British men's footwear factory that switches gears and starts producing kinky boots. Charlie Price is forced to step in and save his family's shoe factory in Northern England following the sudden death of his father. Help comes from the unlikeliest angel, a fabulous drag performer named Lola.
ON YOUR FEET!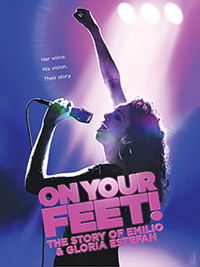 MARQUIS THEATRE 1535 Broadway
Running time: 2h 15min
Best-selling recording and performing artist Gloria Estefan and producer/musician husband Emilio have achieved the American dream, and the musical tells about their journey from Cuban immigrants to global superstars. Features the hit songs "Rhythm Is Gonna Get You" and "Conga."
PARAMOUR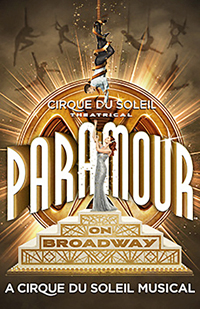 LYRIC THEATRE 213 West 42nd Street
Running time: TBD
The Lyric will host Cirque du Soleil's first show created specifically for Broadway. Set in the glamorous world of Golden Age Hollywood, this groundbreaking event spins the tale of a beautiful young poet forced to choose between love and art.
RADIO CITY CHRISTMAS SPECTACULAR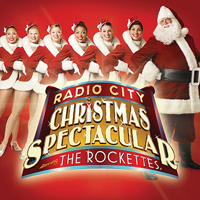 RADIO CITY MUSIC HALL 1260 Avenue of the Americas
Running time: 90min
The annual musical holiday stage show. Features more than 140 performers and an original musical score, and combines singing, dancing and humor with traditional scenes. The star performers are the women's precision dance troupe, The Rockettes. Since the first version was presented in 1933, the show has become a New York Christmas tradition.
SCHOOL OF ROCK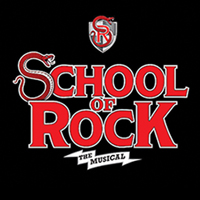 WINTER GARDEN THEATRE 1634 Broadway
Running time: 2h 15min
Dewey Finn is not making it as a rock god, but with a little help from the students he is allegedly teaching, will he become a star? And will they? A down-on-his-luck wannabe rock star poses as a substitute teacher at a prestigious prep school to make ends meet. When he discovers his students' musical talents, he enlists his fifth-graders to form a rock group and conquer the Battle of the Bands. Based on the 2003 hit movie.
THE BOOK OF MORMON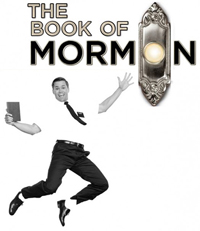 EUGENE O'NEILL THEATRE 230 West 49th Street
Running time: 2h 30min
From "South Park" creators Trey Parker and Matt Stone, it's The Book of Mormon, winner of nine Tony Awards® including Best Musical. The New York Times says it's "the best musical of this century." Jon Stewart of "The Daily Show" calls it "a crowning achievement. So good it makes me angry."
THE HUMANS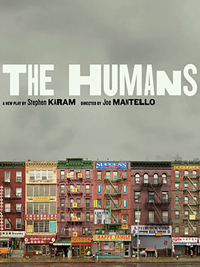 HELEN HAYES THEATRE 240 West 44th Street
Running time: 90min
New York City, Today, After a sleepless night, Mr. Blake brings his family from Pennsylvania to celebrate Thanksgiving at his daughter's new apartment. As darkness falls outside the crumbling pre-war duplex, mysterious things start to go bump in the night and family tensions reach a boiling point.
THE LION KING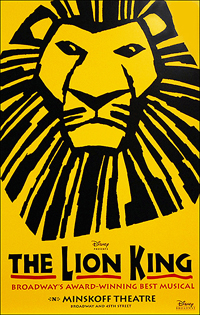 MINSKOFF THEATRE 200 West 45th Street
Running time: 2h 30min
More than 70 million people around the world have experienced the awe-inspiring visual artistry, the unforgettable music and the uniquely theatrical storytelling of this Broadway spectacular. Tony Award-winning director Julie Taymor brings to life a story filled with hope and adventure set against an amazing backdrop of stunning visuals.
THE PHANTOM OF THE OPERA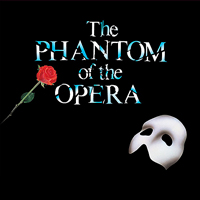 MAJESTIC THEATRE 247 West 44th Street
Running time: 2h 30min
Winner of seven 1988 Tony Awards®, including Best Musical, Andrew Lloyd Webber's stunning masterwork is more than just the longest-running musical in Broadway history - it's an international phenomenon that unmasks emotions like no other show can, leaving audiences everywhere breathless.
WAITRESS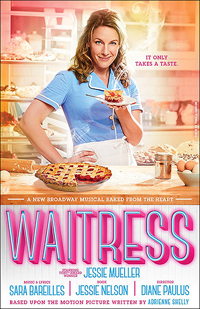 BROOKS ATKINSON THEATRE 256 West 47th Street
Running time: 2h 30min
Based on the 2007 motion picture written by Adrienne Shelly, this new musical celebrates friendship, motherhood, and the courage it takes to pluck a long abandoned dream off the shelf. Featuring music and lyrics by five-time Grammy Award-nominated singer songwriter Sara Bareilles and direction by Tony Award-winner Diane Paulus.
WICKED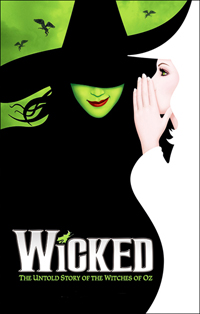 GERSHWIN THEATRE 222 West 51st Street
Running time: 2h 30min
We finally get to see how Glinda the Good Witch had a hand in the creation of the Wicked image that her school mate Elphaba eventually embraces. Like many young kids, Elphaba is different. With an astute mind and naturally green skin, she was never going to fit in. Both passionate and committed and completely misunderstood by Glinda and her popular friends.