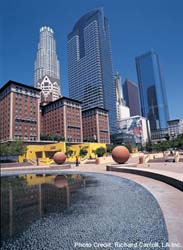 There has never been a better time to visit and experience Los Angeles. While LA is a geographic behemoth, taken region by region, city by city, LA is not only more manageable, but also more exciting. Each locale has enough diversions to fill a short trip, yet not too many to overwhelm. Los Angeles celebrated its 225th Anniversary in 2006. Anytime is the perfect time to discover the rich history the city and county have to offer.
With 88 cities, LA County has something for everybody. Whether it's shopping on Melrose Avenue, biking near the shores of Venice Beach or cheering on the home team at Dodger Stadium, there is never a shortage of things to do. On only one tank of gas, you can ski, surf and hike in LA where, on average, it is sunny 325 days out of the year. With sights to see such as Seinfeld's New York apartment (really in LA), the soon to be re-opened Griffith Observatory or the Walt Disney Concert Hall, instead of looking for things to do, you'll look for a moment of relaxation. A moment of relaxation that can be stolen while wandering through the LA County Museum of Art, perusing through books at one of 311 bookstores or stopping for a cup of joe at Johnie's Coffee Shop.
The rich history of the city can be explored in a myriad of different ways, whether it be at the San Fernando Mission where you can learn about the development of this region or on the world's most famous sidewalk, Hollywood's Walk of Fame, where more than 2,300 stars from film, television and music have their own stars. Or you can explore one of the county's many ethnic areas, such as Little Ethiopia, and partake in the cuisine, shopping and life of the neighborhood. Whatever it is you want to do, LA is sure to offer it. Come celebrate 225 years of existence with Los Angeles, where the sun never stops shining, palm trees never wilt and excitement never sleeps.
(Information provided by LA INC. The Convention and Visitors Bureau.)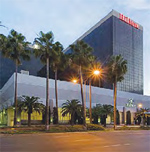 HILTON AT LOS ANGELES AIRPORT
5711 West Century Boulevard
Located just a quarter mile from Los Angeles International Airport. Complimentary shuttle service every 15 minutes to and from the airport is available 24-hours a day. The 1,234 newly redesigned guest rooms include wireless, high speed internet access, flat screen TVs, clock radio with MP3 connection, voicemail, iron and ironing boards and hairdryers. Dine at The Café, The Bistro, Andiamo, Landings Bar and 24-hour in-room dining. Complimentary 24-hour fitness center, pool and jacuzzi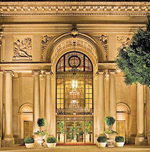 MILLENNIUM BILTMORE HOTEL
506 S. Grand Avenue
The home of Hollywood glamour, the historic Millennium Biltmore Hotel Los Angeles has been the choice of celebrities, presidents, and dignitaries, and the backdrop for many movies and TV shows. Designated as a historic-cultural landmark, the interior of this 1923 hotel features frescos and murals, carved marble fountains and columns, crystal chandeliers, and embroidered tapestries. The hotel has earned top industry awards year after year. All 683 guest rooms and suites are richly appointed, and facilities include a sauna, steam room and Roman-style pool. Set in the heart of LA's vibrant cultural district, visiting nearby attractions like The Broad museum, Walt Disney Concert Hall, L.A. LIVE, and the Los Angeles Convention Center could not be easier. Dine at the Bugis Street Brasserie