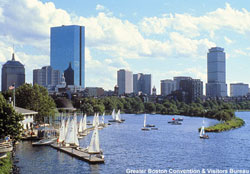 Hip & Historical. Cool & Hot. Pack lightly...we have everything you need.
Perhaps Boston can be best described as a welcome contradiction: Hip alongside historic. Skyscrapers surround parks. Gourmet meets pizza.
Boston is a wonderful blend of stylish sophistication and historic New England charm. You can easily uncover the city's past while enjoying its distinctively modern edge.
Year round Boston's calendar is brimming with exceptional musical and theatrical productions and annual performances, new exhibitions and timeless favorites, walking tours or trolley tours, ethnic festivals and festivals of Food & Wine.
A lively and historically charming city surrounded by picture-postcard New England towns. Boston is the perfect city for any visitor with its many festivals and events there is a new celebration to join in every time you return.
Boston shops and galleries are inviting any time of year whether you're a serious and seasoned shopper, a bona-fide bargain hunter or a whimsical window shopper. You can browse glass-enclosed arcades, meander open-air marketplaces and stroll among independent brownstone boutiques.
Boston is a city steeped in American history and international culture. As you walk the cobbled streets reliving the days of America's beginnings, you will see how Boston has continued its tradition. Boston is a city that embraces its past and also reveals a modern, cosmopolitan city with its inspiring skyline attracting a world of visitors. Stroll down the lanes once ridden by Paul Revere or explore the Freedom Trail's look at America's beginnings. And be sure not to leave without indulging in some fresh New England lobster.
(Information provided by the Greater Boston Convention & Visitors Bureau.)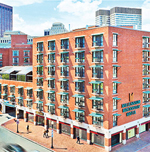 MILLENNIUM BOSTONIAN
26 North Street
Located a short walk from popular landmarks like Boston Harbor, North End, and the Freedom Trail, and set right at the doorstep of the Financial District, The Bostonian occupies one of the city's best locations. The 204 rooms, many with balconies and fireplaces, offer thoughtful furnishings, and stunning views of Faneuil Hall, Quincy Market, and the Old State House, the site of the Boston Massacre. Amenities include Wi-Fi, fitness center, spa, and laundry. Dine at North 26 Restaurant and Bar.