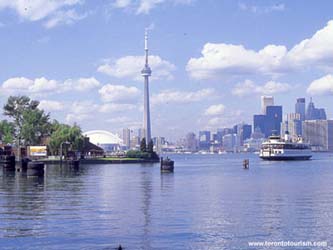 A gloriously all-weather destination, Toronto has different experiences in store for you no matter the time of year. Situated on the northern shore of Lake Ontario, Toronto is one of the southernmost cities in Canada. In fact, the latitude is very close to that of northern California. As a result, Toronto enjoys a moderate climate with the warmest springs and summers in Canada.
Every city has a story and Toronto's is written by the people - in several languages, in poetry, in song, in sidewalk art, in restaurant menus, in architectural blueprints, in scientific discoveries - even in legislation. Toronto is a city built with and for the limitless imaginations of the people who come here to live and those who come here to visit.
You know the feeling you get when you come across an amazing menu and want to order every dish? That's what it's like to be here. Literally, Toronto's cultures offer an unparalleled variety of spice but we take fusion to a level far beyond cuisine. Find beautiful architecture of the city's settlers alongside modern, sleek, gold-tined skyscrapers. We're modest but celebrate voraciously with over 1,000 festivals every year. Our Mayor's "limousine" is a hybrid electric. How's this for more juxtaposition: our street vendors even dish up soy hot dogs! If you're the kind who likes the unexpected, you'll fall in love with Toronto.
What do Torontonians love about Toronto? That's a long list but topping it would be our diversity. Two transit tokens can take you from one country to another, passing along the way through the quaint neighbourhoods that make up our intimate metropolis. Toronto is a place of energy exchange. Leave your mark, find yourself changed. Sound too much like your yoga instructor? Pay us a visit and you'll see things differently too - maybe from the perspective of a hundred cultures.
(Information provided by torontotourism.com)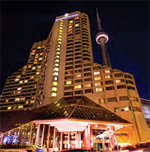 INTERCONTINENTAL TORONTO
225 Front Street West
With a Front Street location adjacent to the Metro Toronto Convention Centre, InterContinental Toronto Centre is considered the city centerís best location. Steps from CN Tower, Canadian Broadcasting Centre, Rogers Centre, Air Canada Centre, the entertainment and financial districts, Toronto Eaton Centre, the Royal Ontario Museum and Roy Thomson Hall. All modern conveniences and amenities to make your stay enjoyable. Azure Restaurant provides eclectic-fusion-seafood-steakvegetarian cuisine. Enjoy a drink at the Azure Lounge and Bar.