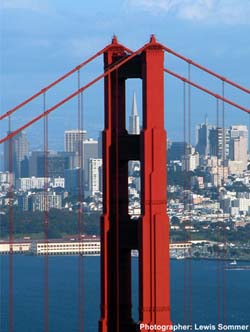 San Francisco is often called "Everybody's Favorite City," a title earned by its scenic beauty, cultural attractions, diverse communities, and world-class cuisine. Measuring 47 square miles, this very walk-able city is dotted with landmarks like the Golden Gate Bridge, cable cars, Alcatraz and the largest Chinatown in the United States.
A stroll of the City's streets can lead to Union Square, the Italian-flavored North Beach, Fisherman's Wharf, the Castro, Japantown and the Mission District, with intriguing neighborhoods to explore at every turn. Views of the Pacific Ocean and San Francisco Bay are often laced with fog, creating a romantic mood in this most European of American cities.
San Francisco has a colorful past, growing from a small village to a major city nearly overnight as a result of the 1849 Gold Rush. The writers of the "beat" generation, the hippies of the Summer of Love in the late 1960's and the large gay/lesbian population have all contributed to making San Francisco the fascinating place it is today.
The City is home to world-class theatre, opera, symphony and ballet companies and often boasts premieres of Broadway-bound plays and culture-changing performing arts. San Francisco is one of America's greatest dining cities. The diverse cultural influences, proximity of the freshest ingredients and competitive creativity of the chefs result in unforgettable dining experiences throughout the City.
City Escape Holidays not only offers you tickets and packages for Golden Gate sites and Alcatraz sites in San Francisco CA, but we also have beautiful San Francisco Wine Country Tours that you will love!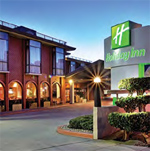 HOLIDAY INN FISHERMAN'S WHARF
1300 Columbus Avenue
Located in the heart of San Francisco's famous Fisherman's Wharf and just blocks from world-class shopping and bustling art and theater districts. Within walking distance to Pier 39 and ferries to Alcatraz and close to the Financial District, Moscone Convention Center and AT&T Park. Amenities include a heated outdoor pool - one of the few offered by Fisherman's Wharf hotels, complimentary wireless Internet access in all rooms and public areas, Bristol Bar & Grill in the Columbus Building, featuring cooked-to-order buffets, Denny's Restaurant in the Beach Building, serving meals 24 hours a day, on-site fitness center and business center.