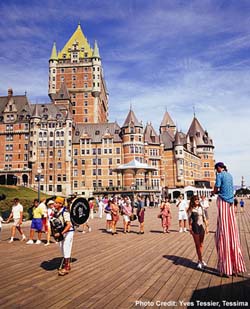 Québec City is most definitely a world class destination. Perched atop Cap-Diamant, Old-Québec tells of its 400 years of history through its architecture and narrow winding streets. Visitors marvel at its spectacular beauty, enhanced by the presence of the flowing St.Lawrence River. With French notes in the air, one feels literally transported into a European feel. Bistros serving "Café au lait" and boutiques offering local artisans' work of art recall its original roots.
The unparalleled quality and variety of restaurants puts Québec on a pedestal for exquisite cuisine highlighting regional produce. Outdoor enthusiasts are impressed with the variety of activities available and the breathtaking scenery in all seasons, just a few minutes-drive from downtown. But the best way to experience Québec City is to meet its warm and friendly people and share their "Joie de vivre".
CHATEAU FRONTENAC
1 Rue des Carrières
Standing high on a bluff overlooking the St. Lawrence River, Fairmont Le Château Frontenac is not merely a hotel located in the heart of Old Québec - it is the heart of it. Easy walking access to all of the wonderful sites and experiences that Old Québec has to offer. Well appointed and furnished in the tradition of a historical chateau, guest rooms have all the necessary amenities to ensure comfort. Enjoy gourmet cuisine in four excellent restaurants. Unwind and swim a few laps in the indoor pool or work out in the state-of-the-art health club. There is even an on-site dog for petting.