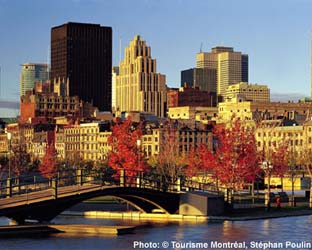 Life á la Montréal
What do you get when you combine the smarts of North America with the laid-back insouciance of Europe? 350 years of progress with the friendly nature of a village? High-tech and high style? You get the city of Montréal - an unpretentious knockout that has no idea of the effect she has on people. Why? Because the driving force behind this unique hybrid is the Montréal mantra: Get out there and celebrate life. And, it must be said, life lived á la Montréal is about as sweet as it gets. From her festivals (Montréal is the undisputed festival capital of the world), to her incredible food, to her legendary nightlife, this city has a true talent for making the very most and best out of life's little pleasures.
Located about an hour from the U.S. border in south-western Québec, Montréal is the largest French-speaking city in North America. This is not a sprawling urban centre by North American standards, and that's part of Montréal's charm. No "donut" town, there is no 6 p.m. exodus to parts unknown. Montrealers live, work and play in a compact downtown core. Safe, clean and green, this city is good to her citizens and guests alike, who lunch and lounge on terrasses for nice, long sessions of people-watching (a sacred Montréal ritual), stroll, hike or bike on mount Royal (a natural haven right downtown), take in the sights and sounds of Old Montréal and the Old Port... this is a place that understands following one's fancy.
Physically, the city's architecture is an artful mix of old and new, with graceful historic structures lovingly preserved and merged with the cool lines of the 21st century. The visual arts flourish here, too, at the Montreal Museum of Fine Arts, the Musée d'art contemporain, and hundreds of top-notch local galleries. In fact, Montréal has an international reputation for creative excellence, not just in the traditional arts, but in cutting-edge technology, multimedia, sound and film production.
Perhaps it's the Latin blood. The passion Montrealers bring to whatever they do is felt everywhere; certainly in international tours de force like Cirque du Soleil, La La La Human Steps, Céline Dion... But you can feel it too as your chef comes to ask you truly, sincerely, how you liked your créme brûlée, and to raise a glass to your health. It's warm, it's relaxing, it's fascinating, it's thrilling. It's life á la Montréal.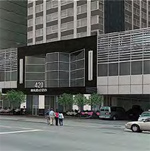 HOLIDAY INN MIDTOWN
420 Sherbrooke W. Hwy 2
Ideally located in downtown Montreal, near Old Montreal and just minutes from the financial district and the city's extensive underground shopping and dining center. Easy access to the Montreal Convention Centre, McGill University, Bell Centre, Notre Dame Basilica, Olympic Stadium, Casino de Montreal, La Ronde Amusement Park and Mount Royal. Close to Ste. Catherine Street and Ste. Lawrence Boulevard restaurants and boutiques and 10 miles from Pierre Elliott Trudeau Airport. Amenities includes the city's largest indoor, heated pool as well as a whirlpool, sauna, massage center, fitness center and salon. Ace Bar & Grill offers continental favorites and room service.