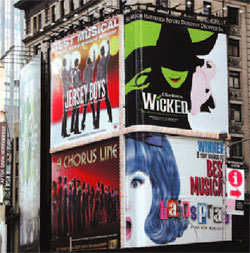 Welcome to New York City!
Immerse yourself in New York City for five minutes, and you'll see why it's like no other place on earth. Only here will you find all of America's attributes - the diversity, the culture, the style - intensified in such an intriguing way. And only here will you experience those sublime moments that New York City is famous for...
If you're a first-time visitor, come see for yourself the Empire State and Chrysler buildings, the Statue of Liberty, Rockefeller Center, Times Square, the Bronx Zoo, Staten Island Ferry, Brooklyn Bridge and all our other world-famous attractions. If you've been here before, there's always another neighborhood to explore, another restaurant to try, another Broadway show and museum blockbuster to see, another don't-miss cultural performance or sporting event.
(Information provided by I♥NY - The Official New York State Tourism Website)
Click Here to go New York City Sightseeing with Gray Line!
Click Here To check out New York's Top Broadway Shows!
Whether you are here to check out any of the NYC Broadway shows, or here for some New York City Site Seeing Tours, we help you find the best New York City Hotels to stay at. Check out our tour packages!
---
Radio City Rockettes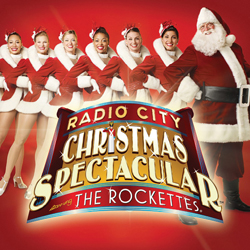 The Rockettes Holiday Season show is a great enhancement to your NYC Holiday Season visit! This precision dance company, founded in 1925 in St. Louis, Missouri, has performed in Radio City Music Hall in Manhattan since 1932. During the Christmas season, the Rockettes present five shows a day, seven days a week. Perhaps their best-known routine is an eye-high leg kick in perfect unison in a chorus line, which is included at the end of every performance. Their style of dance is a mixture of modern dance and classic ballet. The Radio City Christmas Spectacular is performed annually at Radio City Music Hall. There are other numerous shows performed in American and Canadian cities by a touring company of Rockettes. It is one of the most-watched live shows in the United States, with over 2 million viewers per year. The Rockettes have performed annually at the Macy's Thanksgiving Day Parade since 1957. The NBC Rockefeller Center Tree-Lighting Ceremony also traditionally includes a performance by the dance troupe. Available on all City Escapes NYC packages.
---
Yankees Baseball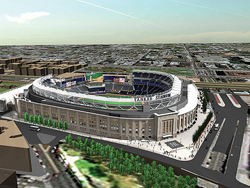 See your favorite team play the Yankees in their new stadium. Choose as a Group V inclusion, or as an optional add-on.We can procure outfield seats, upper or lower deck as well as seats along the first and third baselines, including the infield area. Of course, the least expensive seats are outfield, upper deck, but most guests like our suggestion of letting us get seats equal to the value of a Broadway show which will get you great seats in the lower deck near either first or third base. Ticket prices vary accordingly.
Major League schedules become available in the early part of the year, just before Spring Training opens in February and through March. Your travel agent can call us to see if your favorite team will be playing in New York City. Let your agent know if you want the better seats, or the less-expensive seats and we will be pleased to include it for you, on an independent basis, or for your group or organization. Why not add on Cooperstown and visit the MLB Hall of Fame. See below for details.



---

Learn More about Available Broadway Shows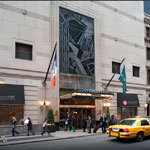 MILLENNIUM BROADWAY TIMES SQUARE
145 W 44th Street
Millennium Broadway New York Times Square is located in the heart of NYC, giving guests a front row seat to all of the endless action and constant excitement of Broadway. Boasting a welcoming, multi-lingual staff, 626 well-appointed rooms, a 24/7 fitness center and complimentary WiFi, amount other amenities. Dine or cocktail at the newly opened Bugis Street Brasserie, with its Asian inspired menu.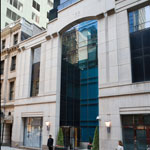 THE PREMIER TIMES SQUARE BY MILLENNIUM
133 W 44th Street
Set in the heart of Times Square, this central location is just steps from local Broadway theaters including our very own Hudson Theatre, Radio City Music Hall, Rockefeller Center, world class dining and shopping and more. Take a step back from the hustle and bustle of NYC in this lifestyle boutique hotel and unwind in the serenity of this true hidden gem. Features 124 well-appointed rooms that are as spacious as they are stylish, with floor-to-ceiling windows, and a bathroom featuring a European soaking tub and a separate walk-in shower.

Located in our adjacent sister property Millennium Broadway New York Times Square, Bugis Street Brasserie and Bar infuses flavors from the archipelago with Singaporean, Chinese and Malaysian specialties.

Enjoy access to the Premier Lounge, the perfect space for a complimentary continental breakfast, all-day refreshments, and nightly evening receptions.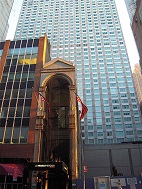 PARKER NEW YORK
119 West 56th Street, New York NY
In the heart of it all on West 56th Street. With a pedestrian entrance on West 57th Street between Avenue of the Americas and Seventh Avenue. Just steps away from Central Park, MOMA, Carnegie Hall, Broadway theaters and Fifth Avenue's famous shops. All rooms are over 300 sq.ft. with views of Central Park or the Manhattan skyline. Amenities include large workspace, 46" flat screen television, hair dryers, mini-bar, iron and ironing board and high speed internet access. Eat at burger joint, Norma's or Knave. Pamper yourself at Moonshine, Tenoverten, Dry Bar or Sharp's Barber. Exercise in the gym or at the pool.