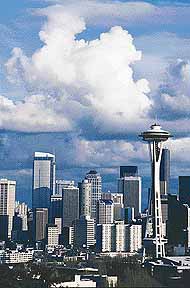 Computer software, coffee, airplanes, Nordstrom, Space Needle and more call Seattle their home. You can too for a wonderful vacation. Seattle is a city with modern facilities, great hotels and restaurants and more. It is also a city with plenty of the Pacific Northwest's natural beauty such as Puget Sound, the Olympic Mountains, Lake Washington, the Cascade Mountains and lots of green trees and fresh air, thus the nickname "Emerald City".
Pike Street Market is one of the more visited places in downtown. You will recognize it from the movie shots, usually of a guy throwing a fresh salmon to a customer. The restaurants focus on the fresh seafood that is abundant in the area, as well as the many cultural traditions that make up Seattle's rich history.
The majestic Cascade Mountain Range dominates the view to the East, highlighted by the immense Mt. Rainier, as well as Mt. Baker, Mt. Adams and Mt. St. Helens (it lost its top in the 1980 eruption).
There seems to be water all around you and you feel so close to nature, yet you have all of the conveniences of a great city. It must be that fresh air that helped locals create Boeing, Microsoft, Starbucks and other great enterprises. Visit Seattle, perhaps that fresh air will have a great affect on you as well.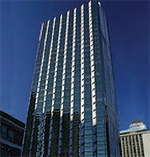 CROWNE PLAZA
1113 Sixth Avenue
Centrally located just steps away from the historic Pike Place Market, Pioneer Square, and hundreds of other unforgettable stores, restaurants, and countless Seattle attractions. Just 14 miles from the Seattle Tacoma International Airport, the Airporter Shuttle will deliver you to the door of our Downtown Seattle hotel in style and ease. 415 exquisitely appointed guest rooms and suites. The Regatta Bar & Grille offers contemporary northwest cuisine featuring only the freshest seafood and prime meats. Features two large screen televisions, a assortment of Northwest micro-brews, local wines and cocktails.